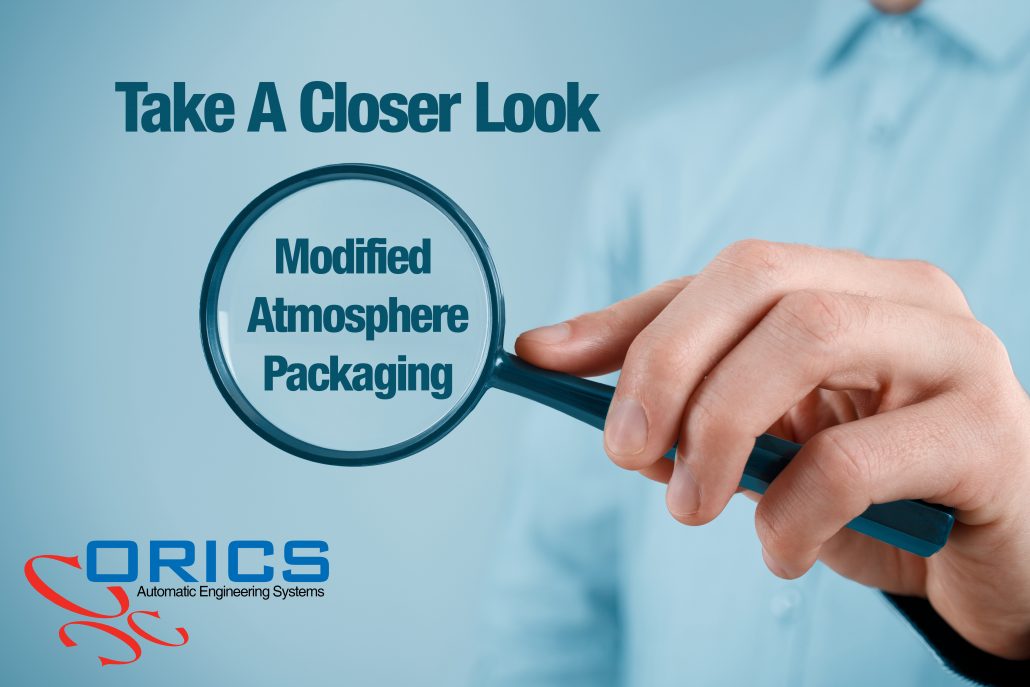 Modified Atmosphere Packaging is the combination of an optimal blend of Nitrogen and/or Carbon Dioxide with in a high-barrier or Permeable package. A finely adjusted and carefully controlled gas blend is created to meet the specific respiration need for each packaged food product.
To package a product in a modified atmosphere requires sophisticated machinery, to flush out air from the packaging chamber and replace it with a different gas or precisely defined mixture of gases, then seal the product in the packaging so that only the modified atmosphere surrounds the product and not any other unwanted gas.
Trays and Packaging films are selected to match the characteristics and needs of each food product. For instance, meat and fish require very low gas permeability films so, For non-respiring products (meat, fish,cheese, Etc..) high barrier films are used. The initial flushed gas mixture will be maintained inside the package. Fruit and Vegetables, However, are respiring (breathing) products where the interaction of the packaging material with the product is important. In this instance, the permeability of the packaging film is adapted to the products respiration. The goal is to establish an equilibrium between the O2 and the CO2 inside the package and this balance results in extended shelf life. in nearly all instances, a M.A.P gas mix slows down the product deterioration, spoilage and rancidity caused by mold and other aerobic organisms.
WHY  M.A.P  SEAL ?
Longer shelf life M.A.P packages allow food processors, food manufacturers, food distributors and food retailers to better control product quality, availability and costs. Longer freshness cycles permit grocers to eliminate frequent product rotation, removal and restocking; thereby reducing labor and waste disposal cost. Distributors can extend distribution territories or offer a greater variety of product line to the retailer, Since less frequent product replacement requirements permits growth in other areas. Food Manufacturers are able to take advantage of extended replacement cycles to reduce production replacement demands. Manufacturing capacity can be more profitably utilized by developing and offering new products.
call us at 718-461-8613 or visit our  site www.orics.com