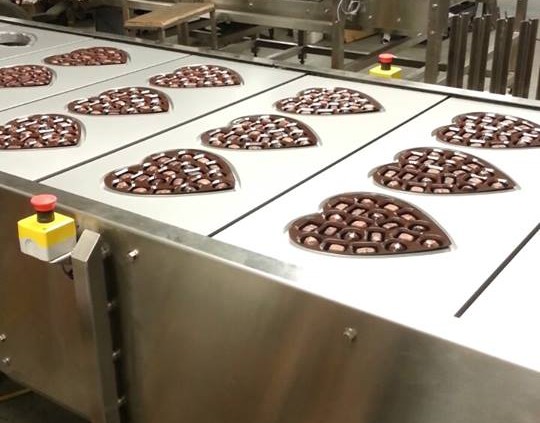 The ORICS S-30 1×3 heart shaped candy Chocolate tray sealing machine.
This ORICS S-30 1×3 system was this candy manufacturer's heart's desire. Manually placed, chocolate-filled, heart-shaped trays are placed into the S-30's carriers. Designed with manual loading in mind, the system is designed to wait until all the carriers are filled, prior to advancing into the heat seal sector (though that feature had been turned off for testing in our facility). This heat seal is one of the best examples of ORICS' ability to handle unusually shaped trays. In fact, our floating heads design is uniquely appropriate for these unusually shaped trays, ensuring that a positive seal is achieved around the entire perimeter of the tray. Additionally, ORICS' seal heads ONLY apply heat to the containers' flange, ensuring that the product inside the trays remains cool and undamaged. This technique also saves you money as we do not heat the entire seal head; only the area directly over the flange.
Like all ORICS products, the S-30 is manufactured in the United States at our Farmingdale, NY facility. For more information call 718-461-8613, visit us on the web at www.orics.com or email us at sales@orics.com.