ORICS Introduces U.S. Made Form-Fill-Seal
The Orics FFS-30 form-fill-seal system is an intermittent-motion, variable-speed sealing system that forms a maximum tray size of 16″ x 12″ and a maximum tray depth of 4″. The system can be combined with modified atmosphere options or can be purchased with full aseptic construction for certain dairy or medical device applications.
The Orics Form-Fill-Seal Machine is consider by Many to be future of all Sealing Technology and the best way to illuminate inventory of cups and tray in your facility.
Original Interview: Packaging World, September 29, 2013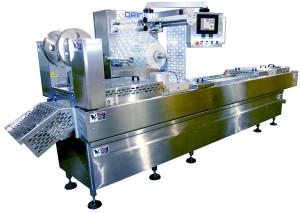 Watch Orics FFS-30 Form Fill Seal Video. 
ORICS FFS-30 Horizontal Form-Fill-Seal machine
oricsindustriesinc