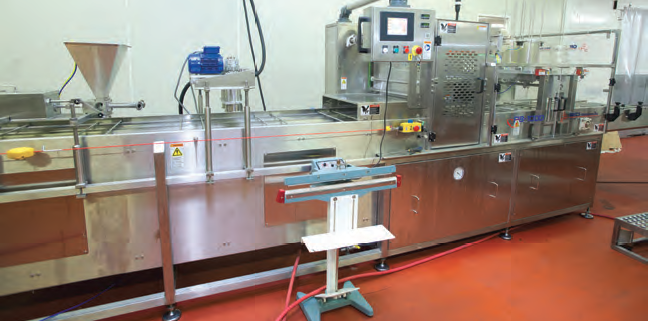 ---
Thriving hummus producer maintains the cutting quality edge with (equipment by ORICS)
---
Making hay while the sun shines is sound, time-tested advice for any small business trying to grow to the proverbial next level. And these are sunny days indeed for the super-friendly folks running the Sunflower Kitchen plant in east-end Toronto—one of a fastgrowing number of Canadian-based producers of the increasingly popular chickpea-based spread called hummus, a core staple of Middle Eastern diet and cuisine for well over a millennia…
As the company's sales steadily increased,prompting four relocations to bigger premises in the past seven years, so had its need for more automated, higher-capacity processing, packaging and quality control equipment,according to Jungreis.
"It was our move to automation that ultimately led Sunflower Kitchens to decide exactly what products to make and distribute into the marketplace," says Jungreis. "With the ability to do automated fills quickly and easily, we were able to determine exactly what products we could make to fill the market needs."
The bulk of the plant's hummus production is handled by the linear model PB-1000 filler and lidder from ORICS Industries Inc., which operates by dropping a small plastic tub from above onto the conveying line, filling it with hummus, vacuum sealing it with a layer of plastic film and crowning it with a semi-rigid, pop-top plastic lid before moving it out of the system for case packing.
Other key pieces of packaging machinery at the Sunflower Kitchens plant include an ORICS R20 rotary filler, …and an ORICS model R30 rotary filler for hot-fill applications.
Original Article: Canadian Packaging, July/August 2013