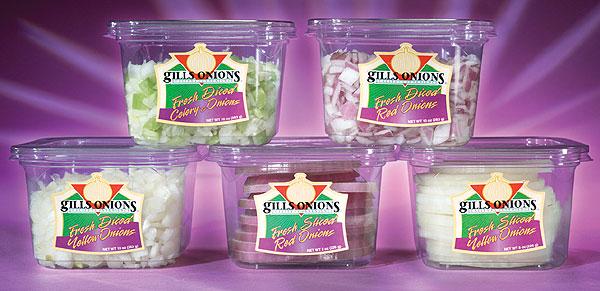 For both foodservice and retail channels, Gills Onions is now offering rigid packaging as an alternative to flexible film bags.
---
By
The nation's leading supplier of fresh-cut packaged onions Gills Onions of Oxnard CA has been busy changing its approach to packaging in both its foodservice and its retail offerings. In both cases a rigid package is now being offered as an alternative to packs made of flexible film.
The firm's first foray into packaging of fresh-cut onions for foodservice accounts came nearly five years ago when a flexible package was introduced for foodservice accounts. While foodservice operators appreciated the convenience of not having to peel and slice their own onions they suggested a tray might be more convenient. "They seem to prefer the handling characteristics of the tray over the bag" says Steve Gill who with his brother owns the firm. "The sliced onions are easier to remove from a tray."
So about two years ago a rotary tray-sealing system from ORICS Industries was installed to package 5-lb portions of sliced onions. That system has since been replaced by a new model from Orics the S-30 in-line system. According to Gill the in-line machine occupies less space in the plant than its rotary predecessor. It also utilizes less lidding material because the film's width is the same as the tray's. So unlike the rotary system there is no excess lidstock around the perimeter of the tray that has to be trimmed after the tray exits the heat-sealing tool.
Thermoformed of 39-mil polypropylene by ClearPak Co. the foodservice trays for 5-lb portions measure 103¼8" x 121¼2" and are just over 3" deep. Operators fill and weigh the trays by hand along an 18' long assembly conveyor. The trays are then placed in an indexing conveyor that feeds them into the cavities of the Orics in-line lidding system.
Lidding material from Packaging Products is a two-layer adhesive lamination of 48-ga oriented PP and 1-mil cast PP. It's microperforated to give it a permeability that allows the proper respiration rate. In other words CO2 given off by the onions is allowed to escape and O2 is allowed to enter at rates that ensure the 16-day shelf life that Gills Onions needs for nationwide distribution.
Foodservice customers who order trays instead of a bag with a zipper reclosure pay a slight premium says sales manager Melia Alamo. "But they're willing to because the product is so much easier to access and handle" says Alamo. "We still offer the bag but we're seeing more and more converts to the tray."
Shelf life on tray-packed sliced onions is 16 days same as for bagged product. The product is shipped from the Oxnard plant to warehouses in Oxnard Salinas or Los Angeles where it's sold. "It becomes the buyer's responsibility to get it through the chilled distribution chain" says Alamo.
And on the retail side
Gills Onions' entry into the retail market is more recent than the launch of its foodservice line. In April of 2002 it began selling 10-oz zippered bags of sliced or diced onions. But in March of this year in response to retailers who thought it would display better a thermoformed PET cup with heat-sealed film lidding and a snap-fit overcap was being released as an alternative. A second ORICS S-30 sealing machine was installed to handle the retail line. It includes a station near the discharge area where snap-fit lids are automatically applied.
Thermoformed PET cups are 4.5" square and 3" deep. They're supplied by Cool-Pak. The lidding material a 1-mil DuPont Mylar with a heat-seal coating is from Packaging Products. A pressure-sensitive bar-code label is applied to the bottom of each cup by Packaging Products. The firm also applies a brightly decorated p-s label to the side of each container. This label is printed flexo in four colors and is supplied by Label Technology.
For diced onions the cups are filled automatically by a 14-bucket combination scale from Heat and Control. The Orics S-30 cup sealer sits beneath it. For sliced onions cups are filled by hand and then sent through the Orics machine.
The cups run through the S-30 system two-across at 60 cups/min. Sliced onions are filled 8 oz per cup while diced onions—including a diced onion/celery mix—are filled 10 oz per cup. Cups are manually packed six per corrugated tray. Refrigerated shelf life is the same for the retail cups as for the foodservice trays: 16 days. The cups sell for about $1.99.
"We think consumers will like the cup better and we already know that retailers prefer it because it displays and merchandises better than the pouch" says Gill. "We'll pay a little more for packaging materials but if we sell more product it will be worth it."
Gill's Onions Utilizes ORICS Equipment, the S-30
Originally Appeared: Packaging World, April 30, 2005